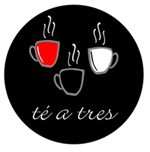 We are Aina and Juan, Té a tres, and this blog is our way to publish all the scenic projects, news, comments, discoveries, ideas, and so on, that we have.
Té a tres is a theater company, founded in 2002 in Majorca (Spain). The company works theater for different sort of audiences (Adult, Children, Youth). We work theater clown,  textual and gesture.
Our on repertory shows are:
Family audience: Contarelles, La Bibliomaleteca y La Desechería.
Young and adult audience: Creative Commons, Pamboli amb Clown y Carton (coming soon a new version).
We have created some comical brief pieces for different socio-educational themes:
– Nino the clown cleans the house: a 25 minutes long sketch staged in schools as an introduction to the educational program Let's divide it of the Educational Dinamics Department of Palma Council.
– Theatrical Workshop of Nutritional Education: Along the school year 2005-06, the nutritionist Gabriela N. Nicola and Té a tres created a project of theatrical workshop on nutritional education in which the bases of a correct nutrition from the nutritional pyramid and the Mediterranean diet were shown to the children through the correct and reliable information of someone as is a nutritionist and through laughter by the clown. With the support of the Sanitation Department of Palma and Llucmajor Councils.
– Presenting Sketch for the Educational program Recull de Literatura Jove, for the Education Area of the Ajuntament de Palma (Mallorca).
We also have collaborated with public institutions in some cultural and educational programs:
– Viu la Cultura (Live the Culture) – Balearic Government
– Palma Educa –  Palma Council
– Tot i Molt (Everything and So Much) – Palma Council
– Iniciativa als Instituts (Initiatives at High Schools) – Consell de Mallorca
– Xarxa de Biblioteques (Library Net) – Consell de Mallorca
– Cultura en Xarxa (Culture in Net) – Consell de Mallorca
– Educational Activities of the Casa Museu Llorenç Villalonga Foundation / Sa Nostra
– Castell de Bellver (Ajuntament de Palma), with our participation in the guided visit History recounted, story created.
Fairs and Festivals:
Fira de Teatre Infantil i Juvenil de Vilafranca de Bonany 2004 (Vilafranca de Bonany2004 Theater Fair for Youth and Children). Majorca – Illes Balears – Spain.
– Festival Internacional de Pallasses d'Andorra 2005 (Andorra 2005 Clown Women International Festival). Andorra.
– Mostra de Pallassos d'Alzira 2006  (Alzira 2006 Clown Festival). Valencia – Spain.– Fira de Teatre de Manacor 2006 (Manacor 2006 Theater Fair). Mallorca – Illes Balears – Spain.
– Setmana del Pallasso de Castellar del Vallès 2008 (Castellar del Vallès 2008 Clown Week). Catalonia – Spain.
– Magiclown 2008. Eivissa – Illes Balears – Spain.
– II International Clown Women Festival – Clownin 2008. Vienna – Austria.
– 5º Festival Clown de Campanar 2009 (Campanar 2009 5th Clown Festival). Valencia – Spain.
– Festival du Cheylard "Les Articulés" 2009. L'Ardêche, France.
– Festival Internacional de Comicidade Feminina – "Esse Monte de Mulher Palhaça" 2012. Rio de Janeiro, Brasil.
– International Women's Clown Festival – "Clownin" 2012. Vienna, Austria.
– Fira de Teatre Infantil i Juvenil de Vilafranca de Bonany 2013. Mallorca – Illes Balears, Spain.
– Festival Internacional de Palhaças de Recife – Palhaçaria 2014. Recife. Pernambuco, Brasil.
– Fira B. Institut d'Estudis Baleàrics. (Mallorca – Illes Balears). firab.org .
– FIET – Fira de Teatre Infantil i Juvenil de Vilafranca de Bonany 2015 (Mallorca – Illes Balears). fiet.cat .
– 1r. Festival Internacional d'Impro de Balears. 2015 fiib.es.
– 18è Festival International de Teresetes de Mallorca 2016. elasticnou.com/festivalteresetes
– 3r Festival Internacional de Pallasses – Circ Cric 2016. Montseny Sant Esteve de Palautordera. Catalunya. circcric.com/festival-de-pallasses